About Kenneth, Eisen & Associates, Ltd
Since 1992, Kenneth, Eisen & Associates, Ltd., a full-service accounts receivable recovery service, has been providing collection services to clients in the retail, medical, utility, telecommunications, banking, and commercial fields.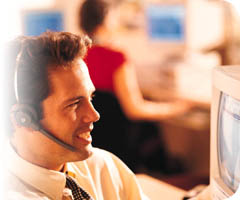 Our program has been designed to fulfill the niche in the market for a more thorough, comprehensive collection service that can be tailored to meet the specific needs of each and every client
We emphasize telephone contact by competent, highly trained "counselors," rather than solely relying on a letter series. Our collection style is respectful, yet firm, with the consistent goal of maintaining the integrity of all parties. It is our goal to provide the highest possible recovery rates for our clients, while at the same time maintaining a high level of sensitivity to consumer needs and capabilities.
Our staff consists of experienced collectors, proficient in utilizing the latest collection methods, and knowledgeable in all areas of the laws governing our industry. Currently, our staff handles accounts from a wide range of providers. We have developed a formula for working these accounts that has consistently produced recovery levels that exceed industry averages. Blending advanced collection tools, the latest technological resources, and a "counseling" approach to the collection process, we are positioned to provide our clients with expedient recovery of funds by eliminating many of the obstacles that hinder account resolution.
It has been, and will continue to be, our long-term goal not just to grow, but also to maintain lasting business relationships with our clients. Our mission is to serve our clients in a consistent and committed way by being responsive to their varied goals and objectives. Maximization of recovery levels while maintaining a high degree of sensitivity to debtor circumstances and capabilities is often a difficult balancing act. At Kenneth, Eisen & Associates, Ltd., we never lose sight of this during the collection cycle, thereby ensuring the highest level of recovery and the lowest level of customer complaints.
Integrated together, Debtmaster Collection Software, and the Access! Predictive Dialing System represents our commitment to utilizing the latest in collection technology. These tools, in concert with our "counseling" approach to the collection process, have enabled us to maintain long-term relationships with many major national, regional & local clients.
PERFORMANCE GUARANTEE
We are committed to providing the best possible results for all of our clients. We back this with our NO COLLECTION - NO FEE rate policy.
LET OUR SUCCESS ADD TO YOUR SUCCESS!