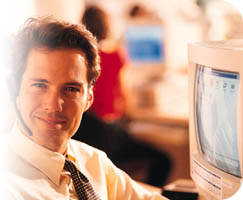 KEY RECOVERY SERVICES is our full service, professional debt collection division, developed to assist clients reduce revenue losses attributed to bad debt write-offs. Using state-of-the-art collection techniques and methodology, the application of advanced collection software, and an automated dialing environment, we have demonstrated the effectiveness of a comprehensive collection program specifically designed to increase recovery rates, while maintaining the goodwill our clients work so hard to establish and protect.
Our collectors follow the "counseling approach" for the entirety of the collection process. Making friends instead of enemies, and overcoming obstacles, rather than creating them, is the central ideology throughout their collection efforts. Consequently, payors respond earlier in the collection cycle, are more satisfied with the agency process, and make fewer complaints than consumers exposed to the traditional collection agency approach prevalent in the industry.
Professional Debt Collection Services
A proven system that provides account resolution while maintaining a high level of sensitivity to consumer needs and capabilities:
| | |
| --- | --- |
| | Early & Effective Account Resolution |
| | State-of-the-art collection software |
| | l SmartDial Predictive Dialing System |
| | On-line credit bureau reporting and retrieval |
| | Digital Directory Assistance / Proprietary Skip Tracing Database |
| | Asset Location and Verification |
| | Specialized Collector training and education |
| | Early Out Programs |
| | Precollection Programs designed to provide 3rd party impact with 1st party comfort |
| | Customized letter series and phone campaigns |
| | Skip locate programs to supplement and enhance in-house collection efforts |
| | Pre charge-off collection services designed to cure accounts & prevent delinquencies |
Quality Service & Client Support
| | |
| --- | --- |
| | Electronic account placements and client reporting available |
| | Comprehensive Monthly Client Performance Analysis System |
| | Collection Consultation |

Kenneth, Eisen & Associates, LTD is an active member of ACA International, The Association of Credit & Collection Professionals, and The Arizona Collector's Association.